Case Study: Loba's Hip Dysplasia Treatment
1st September 2020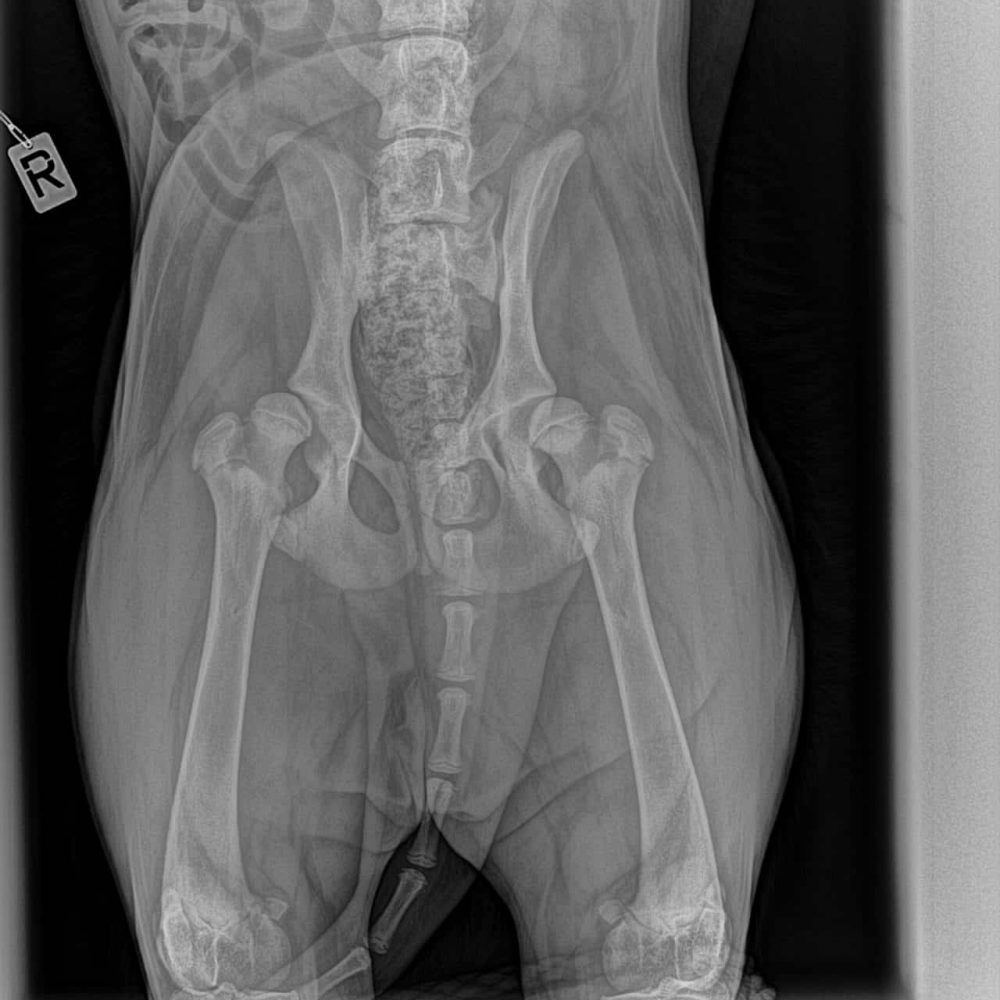 The team at Physio-Vet have extensive experience in treating hip dysplasia in dogs – something that has come in very handy when treating the beautiful Loba.
Loba has just turned 1 year old. She and her owner love to be out and about together, so, upon her developing hip dysplasia, the team were keen to improve her mobility and reduce her hip pain in the long term – helping the two of them get back to doing what they enjoy most.
Loba is an Estrela Mountain Dog, a large breed. Other large breed dogs such as Labradors, Golden Retrievers, Great Danes and German Shepherds are also more likely to have joint development issues of this kind.
How was Loba injured?
As with many sufferers of canine hip dysplasia, Loba's condition was primarily of genetic cause.
The story so far
Hip dysplasia can affect both old and young dogs, and Loba was just five months old when the side effects of the condition became apparent.
In her case, these symptoms chiefly took the form of a "swaggering" gait – something common in dogs with hip dysplasia – that was particularly apparent on her right side. This is often the result of hip pain which causes a dog to compensate by using other muscles to propel the joint.
To confirm Loba's condition and decide on the correct treatment options for her case, the team at Physio-Vet took a multimodal evaluation process.
Initially, they checked if she was able to properly extend her hips; which showed she had discomfort extending her right hip. They also utilised diagnostic imaging which helped them to take a closer look at the hip joints.
It was determined that Loba did not require surgery as a false joint component or total hip replacement were not necessary. It was clear that her condition could be treated through non-surgical methods.
Loba's Hip Dysplasia treatment
To improve Loba's range of movement, improve muscle growth, reduce her pain and ensure a quick and effective recovery, the team at Physio-Vet implemented a treatment course that combined a number of different elements:
Therapeutic laser therapy
Pulsed electromagnetic field therapy
Underwater Treadmill
They've been focusing particularly on hind limb strengthening to ensure her joints have the right muscular support.
Loba's recovery
Loba's treatment began seven months ago and she's come on in leaps and bounds over that time. She achieved a good amount of muscle growth and her range of motion is improving.
In order to strengthen a dog's hips and improve their movement, it's important that they undertake a good amount of gentle exercise – Physio-Vet highly recommends short walks on a lead – and that they are able to properly rest and recover afterwards.
A large breed of dog like Loba needs regular walks, and this should be kept up despite the hip dysplasia to prevent weight gain. If a dog becomes obese, it's likely that the pressure on their joints will make the dysplasia worse and cause them more pain.
Loba's owner exercised her correctly – gradually increasing her walks over a seven-month period to 30 minutes, three times a day – and fed her a good diet to aid in her recovery.
How is Loba now?
Loba's treatment is still ongoing, but she's enjoying it and seizing each day like a trooper. She's a very happy dog who seems just as keen on her recovery as her owner, and it looks like her recovery is going from strength to strength.
The team at Physio-Vet think Loba will be back on form and bounding around in no time!
For more information about Loba's condition, look here.
If you are concerned that your pet may be developing hip dysplasia, don't hesitate to contact Physio-Vet. As you can see from Loba's progress, we have a variety of effective treatments available that will reduce their discomfort and improve their quality of life.