Halloween safety tips for pets
1st October 2021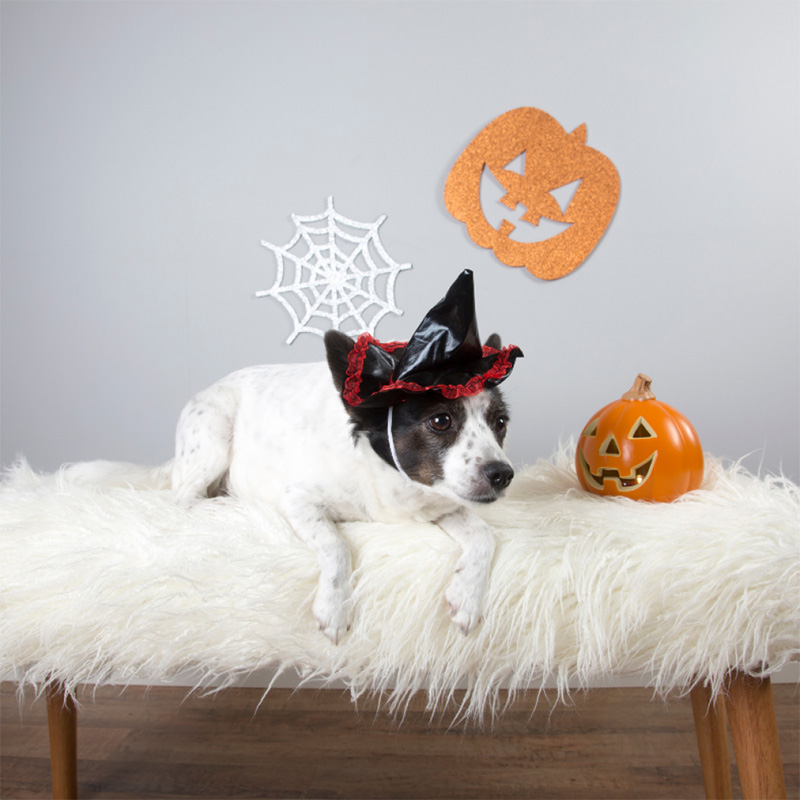 Halloween is the spookiest night of the year and while it can be a fun festive time for families, pets on the other hand find it paw-sitively terrifying – literally! So, how can we keep our cat or dog safe?
Below are some helpful guidelines from Physio-Vet to ensure a memorable Halloween for both you and your pet.
Halloween safety tips for pets:
1) Tricky treats
Keep Halloween delicacies safely out of your pet's reach by sealing up all treats and snacks into a cabinet that is inaccessible to your dog or cat. These can have fatal consequences if consumed including vomiting, increased heart rate, and seizures from chocolate poisoning, whereas sweets containing the sugar substitute xylitol can lead to low blood sugar and liver failure.
It's also important to make children aware of the dangers of sharing their goodies with their pets. This way your furry friend doesn't get their paws on something that could be harmful to them!
2) Take care with costumes
Creepy costumes and disguises for pets can make Halloween an exciting experience! But the possible hazards that come with dressing up may outweigh the fun of dressing up. Just remember to avoid any outfit that restricts their movement or vision, makes them uncomfortable, or is made of materials that they could easily chew off and swallow whole (like a ribbon or button).
3) Fireworks
Fireworks are another factor to consider during both Halloween and Bonfire Night. After all, dogs and cats have much more sensitive hearing than humans, and any loud bangs or flashes will trigger their flight-or-flight response.
There are many events and festivities that involve fireworks of all shapes, sizes and colours; check what's occurring in your local community on Halloween, as this may help you better prepare your pooch! If it's safe, take them out during the day instead of waiting until dark and keep them confined in a secure, comfortable place with plenty of water if they're anxious and lots of cuddles for reassurance.
4) Stranger danger
Ever heard of the phrase 'scaredy cat'? Halloween offers a host of activities, but with a flurry of visitors in strange costumes arriving at the door, this can be quite distressing for some dogs and cats. During peak hours, keep pets away from the door to prevent them from darting outside or being aggressive to passing trick-or-treaters. Make sure they are wearing proper identification like an ID tag if he or she does escape into the night.
5) Watch out for decorations
Finally, Halloween decorations like candles, lit pumpkins, fairy lights, hanging banners, streamers, fake cobwebs or glow sticks often pose a hazard to pets. They can easily run the risk of choking, knocking over ornaments or even burning themselves if things are within paws reach, so be mindful when decorating the house.
Happy Howl-o-ween!
Don't let your cat or dog be tricked this year! Keep these Halloween safety tips for pets in mind as you begin planning your creepy celebrations.
If you're in need of expert pet care advice or specialist physiotherapy treatments, get in touch with our team today on 01270 586008 or send an email to Info@Physio-Vet.Com where your pet's safety and quality of life is our number one priority!