How cold weather can affect your dog
1st October 2021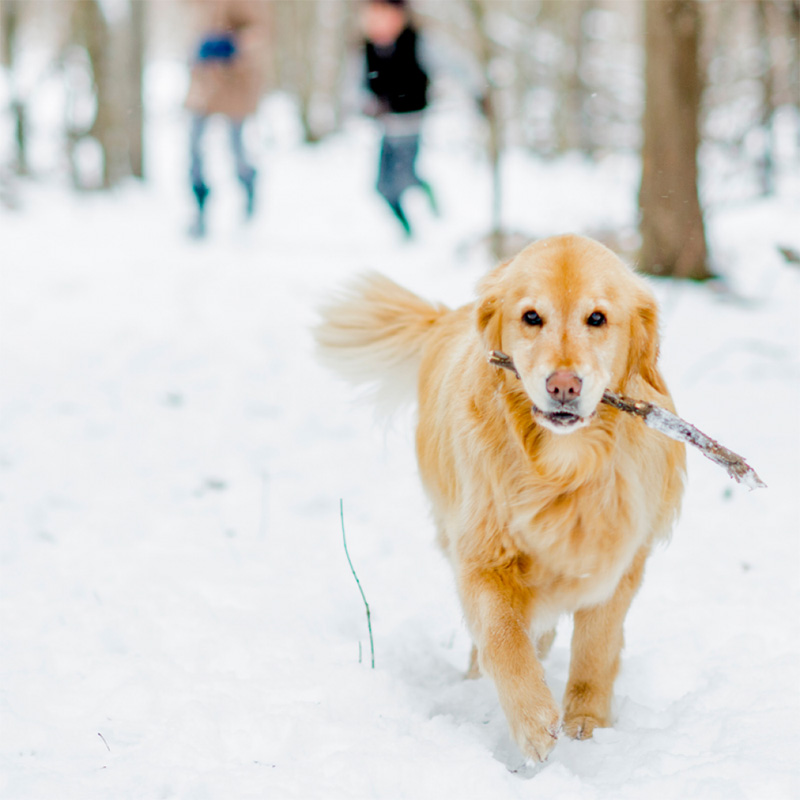 Your dog is lying by the fire, feeling all cosy and warm when suddenly you voice your concerns over the cold weather. The dog perks up its ear, tilts its head, and wags its tail thinking "Yay! Time to go outside!". However, this can be an extremely hazardous time for our furry friends, and there are a few things to keep in mind about how cold weather can affect your dog.
In this article we'll take a look at the following:
Signs that your dog is too cold
The most common ways cold weather can affect your dog
How to keep your pet healthy and safe
Signs that your dog is too cold
In the wild, canids such as wolves and foxes are equipped to deal with cold conditions. They have a thick fur coat protected by an oily secretion from their sebaceous glands known as sebum. In addition to this, most of them have a good sense of burrowing into warm places.
However, today's domesticated dogs don't usually have access to these resources, and they find themselves exposed to extreme weather conditions with little protection against the cold and a means of staying warm.
Signs that your dog should come inside from the cold include:
Shivering
Slow or no movement
Lifting their paws off the ground
Anxious whimpering or barking
So, how else can the cold weather affect your dog?
1) Joint inflammation and stiffness
When it comes to cold, damp weather, arthritis and joint discomfort can worsen which has a major influence on your pet's ability to move around their environment. This is thought to be due to blood pooling in the bone just below the joint cartilage because of a change in barometric pressure – increasing nerve sensitivity and amplifying pain signals as a result. Although this condition is fairly common in older dogs, it can also affect younger, larger breeds of dog like Labradors or German Shepherds.
The solution?
Ensure to keep your dog warm, providing a comfortable place to rest with low-impact exercise to keep the joint lubricated and moving.It's also an idea to take your dog out on high pressure days (a crisp sunny morning for example), rather than low pressure ones that often bring rain or snow to help force the pooled blood back to the heart.
In addition, if your dog requires further pain relief from arthritis, veterinary physiotherapy is a great way to help improve their range of motion (ROM) and relieve any symptoms. Here at Physio-Vet we offer a bespoke arthritis management programme to help support your canine companion, even during colder conditions!
Hypothermia in dogs
If you live in an area where winter temperatures frequently dip below freezing for an extended period of time (two days or more), your dog can be at risk of hypothermia. Sick or elderly dogs are especially prone to this because they cannot regulate their body temperature, causing an irregular heartbeat, difficulty breathing brought about by low amounts of oxygen in the body, a weakened immune system and slower digestive system as they are unable to process food or medication properly.
The solution?
Keep your dog indoors as much as possible so they don't get too cold. If you do decide to go outside, dress them for the occasion by wearing a sweater or coat, ensuring that the material doesn't stick to their fur when wet nor restricts their movement when walking or running.
Frostbite
Certain breeds, e.g. Siberian Husky and Alaskan Malamutes, have been bred to work in extremely cold environments. However, a thin coated dog may be more susceptible if the temperature drops below 0 °C. This is because their blood vessels constrict in order to keep vital organs warm, which leaves extremities such as the ears, tail, and paws vulnerable to freezing.
If your dog steps on ice, packed snow, or grit/salt on the paths, they may damage their paw pads. It can be very painful and slow down healing time if not treated promptly, leading to a condition called interdigital dermatitis. Even if a dog goes swimming in cold water during the winter months the tail could go rigid and brittle. A condition known as frozen tail.
The solution?
If your dog is affected, carefully clip the hair between toes (if your dog is long-coated) and clean their paws with lukewarm water, then apply some petroleum jelly on the pads or boot them up for added protection. Remember to always check for clumps of ice to avoid frozen feet!
For the tail, we recommend using anti-inflammatory medication to help alleviate the pain and let your dog get plenty of rest for a speedy recovery.
Warning: DO NOT directly put heat from a hair dryer or radiator to warm them up as this can cause burns and blistering to the infected area.
Get in touch at Physio-Vet
Our veterinary experts are here for you and your pet, no matter the season! We offer a wide range of veterinary physiotherapy treatments to patients across Cheshire, including hydrotherapy, laser therapy, PEMTF and manual therapy. These are designed specifically for dogs to help treat injuries caused by weather-related events which help to stimulate circulation and relieve pain while also promoting healing. Don't let your dog turn into a pup-sicle this winter and give us a call on 01270 586008 or send an email to Info@Physio-Vet.Com for more information and we'll be happy to help!