It's Walk Your Dog Month!
1st March 2022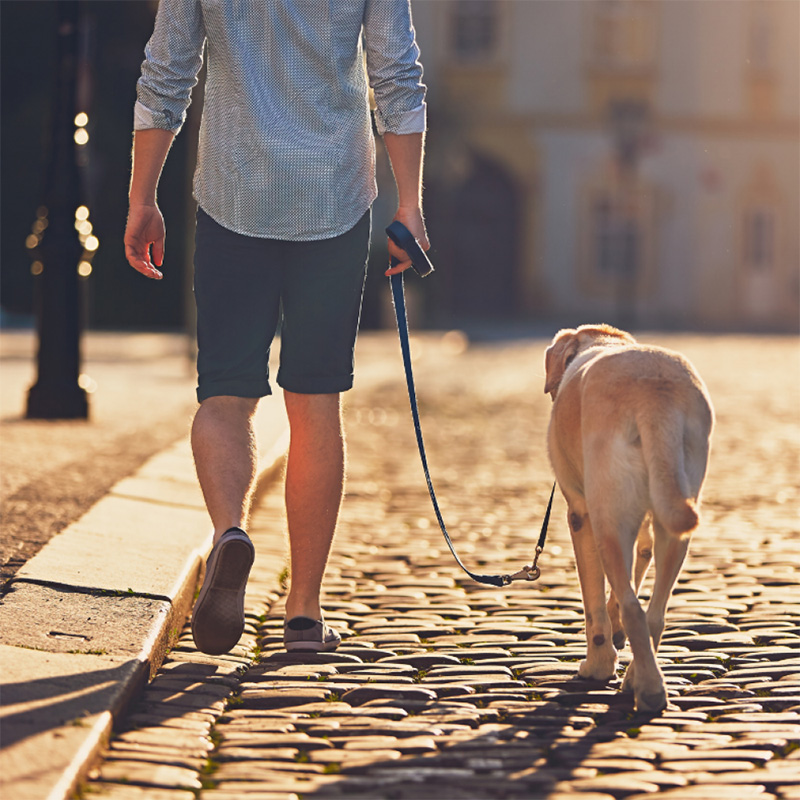 It's Walk Your Dog Month! What better way to kick-start the New Year than showing our four-legged friends just how much they mean to us and enjoy the great outdoors together!
With so many of us working from home these days, a walk out in the fresh air can do us all a world of good. Think of it as a bonding experience where you and your furry companion can improve each other's physical and mental well being, one step at a time!
Read on to discover more about Walk Your Dog Month, along with a few helpful tips for walking your dog this January.
What is Walk Your Dog Month?
Walk Your Dog Month aims to encourage responsible ownership by instilling the importance of exercising your dog at least once, if not twice, per day so they're happy and healthy companions.
Walking increases your dog's fitness levels in terms of improving their mobility, muscular strength and cardiovascular system, helping to avoid a number of issues like canine arthritis, hip / elbow dysplasia and obesity-related issues.
Furthermore, it's a great way to establish a daily routine and be constructive in giving your pooch an outlet to release all that pent-up energy – meaning they are less likely to become bored and destructive at home (i.e. barking and chewing) when stimulated.
Ultimately, going for a walk each day gives them the chance to explore new sights, sounds, smells and socially interact with others. We've all seen how excited our furry friends get when mentioning the word 'walkies' – wagging tails galore!
How often should you walk your dog?
According to the PDSA Animal Wellbeing Report, 13 per cent of dogs within the UK are NOT walked daily.
It's recommended that you walk your dog for 30 minutes to 2 hours. However, there are several factors to consider such as age, breed and health which determine what the right amount of exercise looks like.
Huskies, Retrievers, Border Collies and Springer Spaniels paws are made for walking (and that's just what they'll do), whereas smaller dogs (Bulldogs, Chihuahuas and even Greyhounds) require only a gentle stroll of 20 – 30 mins every day to feel refreshed.
You can find out more about your chosen breed of dog by visiting The Kennel Club's A – Z list here.
Dog walking tips
Here are some of our top tips while out walking in morning or evening:
Make sure to provide your dog with small dog treats and plenty of fresh water to keep them fed and hydrated throughout the trip. They may be more willing to walk by your side if you reward good behavior too.
It's important to be seen during darker days so wearing reflective coats, harnesses, collars, or leads helps traffic and other pedestrians aware of your presence.
Before setting out, pay attention to the weather report. If it's a major snow flurry or rainstorm, dogs can easily get too cold because of their fur, so keep them indoors until the weather settles.
Ensure that your dog is wearing its identification tags at all times and microchipped. If it gets lost, the person who finds them can contact you.
Supervise your dog at all times with good recall when off the lead. You never know what they will get into when their owners aren't looking.
Always bring a waste bag and scoop up after your dog's business whenever possible.
Change up their walking route. It's a lot more fun to go off the beaten track and engages all their senses for physical and mental stimulation.
So put your coat on, boot up and head out with your dog this January for Walk Your Dog Month!
Walk-in to Physio-Vet
If your pet is in need of further treatment after surgery, a recent injury, or has ongoing issues with their mobility, the veterinary experts at Physio-Vet are here to help.
We offer a wide range of veterinary physiotherapy treatments to patients across Cheshire, including hydrotherapy, acupuncture, post-operative rehabilitation and manual therapy. These are designed specifically for dogs to help relieve pain, while aiding in their recovery for an improved quality of life.
Call on 01270 586008 or send an email to Info@Physio-Vet.Com for more information to see what our physiotherapy services can do for you and your pet.