Recognising the signs and symptoms of pain in dogs
1st December 2021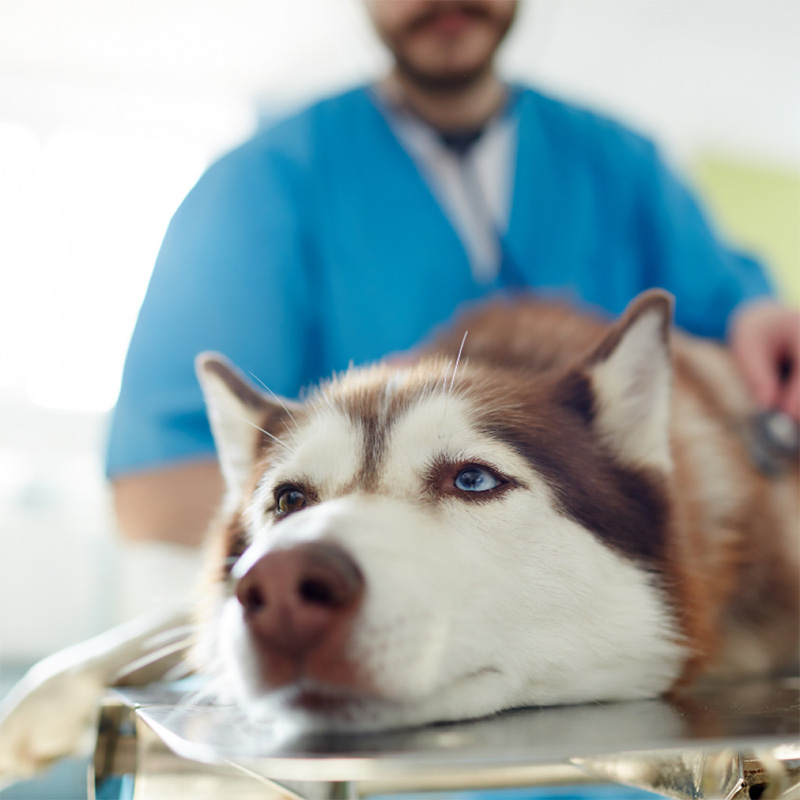 No pet parent wants to see their dog suffer, and unlike humans, our four-legged friends are unable to speak their minds on how they are truly feeling, or if something is hurting.
That's why it's up to us to recognise the signs and symptoms of pain in dogs, which includes both physical and behavioural indicators ranging from big to small. With a good understanding, you can act fast and get them the help they need.
In this article, we'll be taking a look at the following:
What causes pain in dogs?
Signs your dog is in pain
How do I manage my dog's pain?
What causes pain in dogs?
Dogs can experience pain for a variety of reasons, both acute (short-term) and chronic (ongoing). The most common causes of pain in dogs include:
Soft tissue injuries
Bone cancer
Sprains/strains
Slipped discs
Back problems
Periodontal disease
Ear and urinary tract infections
Signs your dog is in pain
The intensity of the pain signals dogs send out to their owners will depend on their individual personalities. In the wild, hiding signs of discomfort or pain is a survival tactic that our domesticated dogs have naturally adopted as descendants of wolves to avoid showing weakness, and protect themselves during times of infirmity.
But, while obvious clues like limping or open wounds show physical injury, there are other subtle signs of pain in dogs that require closer inspection.
Vocalization
If your dog is constantly yelping, whining, or whimpering when being picked up, touched or walking, then it could be a cry for help and the only way to tell you that they are experiencing pain is by being more vocal.
Loss of appetite
One of the more subtle signs and symptoms of pain in dogs is a reduced appetite. If they are no longer wolfing down their food or showing little interest in some tasty treats, this could be the sign of an underlying issue. Any significant change in diet and weight should be notified to a veterinary professional.
Abnormal movement
Does your dog have a funny walk? Are they lying in an awkward position or reluctant to sit down or stand these days? More than likely, this is an indication of muscle and joint pain, or even acute abdominal pain. Therefore, be sure to check on them and look out for any restlessness or inactivity.
Aggression
Another common example of pain in dogs is how uncharacteristically aggressive they can become. If your docile dog starts to growl or snap, it's their way of protecting themselves from further injury and saying 'stay away' to others.
Withdrawal
On the other hand, some dogs may withdraw from social interaction or play, with no energy or enthusiasm to be around their family or fetch their favourite toy. They may even hide somewhere more private so they won't be distubred whilst they're in pain.
Excessive grooming
Finally, dogs who are in pain will tend to repeatedly lick or chew a wound to help themselves heal. It could also be the sign of a sore spot and area of irritation on the body not visible to the eye like joint inflammation. Dogs will also rub their eyes on the ground or with their paws if they have trauma in the eye.
How do I manage my dog's pain?
Now that you are aware of the signs and symptoms of pain in dogs, how can I help make them feel better?
The best way to manage your dog's pain is by taking him or her to a veterinary professional for an accurate diagnosis. They will be able to advise on the best treatment option for your dog, which could include physiotherapy.
Here at Physio-Vet, nothing is more important than the health and welfare of your pet. We offer gold standard veterinary care and services to patients across the North West that have been developed over many years of scientific and clinical research.
If you think your dog is in pain and requires further treatment, please get in touch now by calling 01270 586008 or send an email to Info@Physio-Vet.Com and we'll be happy to help!