Veterinary Acupuncture
Veterinary Acupuncture
Our veterinary acupuncture services can safely be used to treat dogs and cats with a variety of ailments, including orthopaedic conditions such as arthritis, hip dysplasia, spinal problems, nerve trauma and muscle pain.
What is veterinary acupuncture?
Acupuncture originated as an ancient Chinese therapy used for treating many conditions. Over the years it has moved into the mainstream of complementary therapies, being used worldwide since scientific studies have proven its efficacy.
We now understand it to work, at least in part, by affecting change through the central nervous system. Very fine needles are used at certain acupressure points around the body, stimulating a number of natural healing and pain-relieving processes.
The results include endorphin release to help block pain, the release of cortisol with its anti-inflammatory properties, improved nerve function, better blood circulation, and improved performance of the body's natural defence system.
Acupuncture is practically pain-free and pets usually relax into the therapy, some even doze off!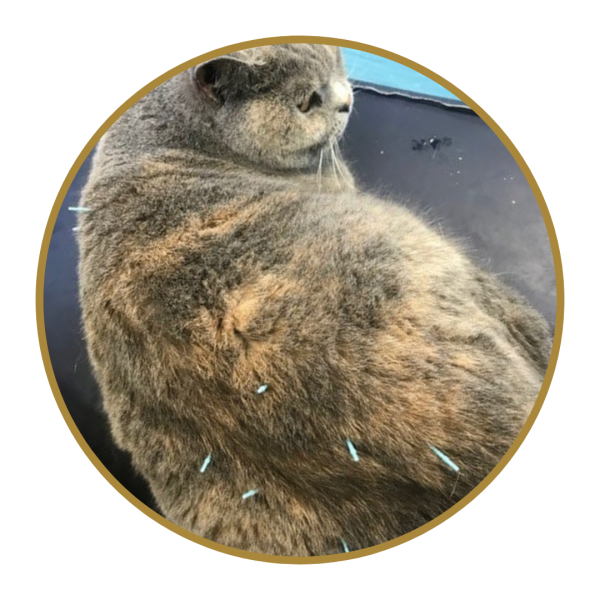 How do we use veterinary acupuncture?
Complementary therapies, such as acupuncture, can be used in conjunction with other treatments, however, sometimes it may reduce or even remove the need for medications.
The length of acupuncture sessions are approximately 30 minutes and vary depending upon the treatment required. Acute problems may be relieved in just one or two sessions, and it is common for us to see young, otherwise fit sporting dogs for acupuncture to help heal sprains and strains. Some of our more mature four-legged clients visit us less frequently, but longer term for maintenance treatments and relief from chronic mobility problems.
Veterinary acupuncture is considered an act of surgery and therefore must only be carried out by a trained veterinary surgeon. Not all vets are trained in acupuncture and its efficacy depends upon the experience and knowledge of the vet. Acupuncture is very safe when administered under the right conditions, and we're delighted to be able to offer this therapy, delivered by a highly skilled and experienced team who love helping pets.