Dog Hydrotherapy
Dog Hydrotherapy
Our facilities in Cheshire boast a fantastic dog hydrotherapy set up, complete with our very own underwater treadmill for both dogs and cats.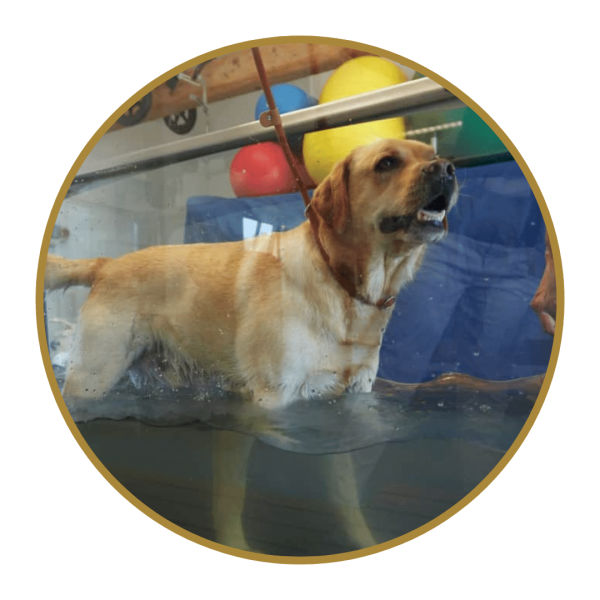 What Is Canine Hydrotherapy?
Hydrotherapy involves the natural buoyancy of water to help support body weight during a series of controlled and specific exercises conducted on our canine hydrotherapy treadmill. This is often recommended for patients recovering from orthopaedic surgery, injury, and for those with chronic mobility problems, including arthritis.
Water also creates resistance to movement in helping to restore and strengthen muscle. This way it can benefit patients who have experienced muscle wastage, for example due to inactivity after surgery. Warm water possesses a soothing quality, easing pain and thus increasing the extent to which a patient is able to exercise. Temperature is at 30°C in winter and 28°C in summer.
The speed of the treadmill and depth of water can be controlled, and we view the movement of our patients through the glass sides and ends. Certain exercises can be conducted by our hydrotherapist in the tank with the patients, particularly for spinal rehabilitation.
How Do We Use Hydrotherapy?
Dog hydrotherapy forms part of our post-operative care plans for many pets who have undergone surgery. Recovery in dogs following orthopaedic surgery can be dramatically improved by strengthening the supporting muscles, taking the strain off the surgical repair.
In a similar manner, we use hydrotherapy to rehabilitate patients with muscle injuries. It is also common to see many of our 'golden-oldie' patients enjoying some relief from arthritic joints on our underwater treadmill and it can also form part of a weight-loss plan.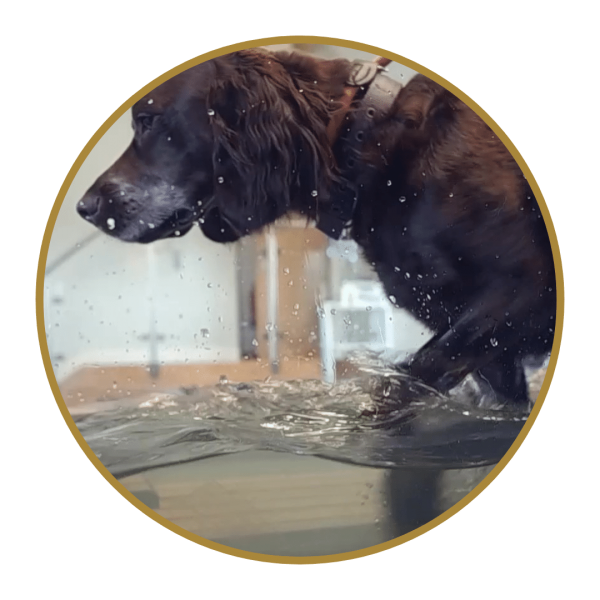 What Happens At My Dog's Hydrotherapy Appointment?
Whatever the reason for your pet's visit to our hydrotherapy facilities, our caring and highly trained team will tailor treatment to meet their specific needs, taking a whole-body view to recovery.
The sessions will take place on our canine underwater treadmill and some pets will need more time to get used to this. Our team is very experienced at helping you and your pet feel comfortable.
Most dogs love their appointments, especially as we use toys and treats for positive reinforcement and do our best to make the experience fun!
Our team can explain the specific exercises that will form part of your pet's treatment programme.
Treatment sessions generally last around 30 minutes.
After the treatment, we will advise whether there are additional home exercises that would benefit your pet.
We ask owners to bring a favourite toy or treat as encouragement. We have special towels that remove most of the water from the coat, but please feel free to bring your own towel and coat for the journey home – particularly in winter.
How Many Treatments Will My Pet Need?
The number of visits required will vary depending on our shared goal for your pet. Acute injuries might require a shorter treatment programme, whilst a longer, less intensive plan may be better suited to pets with ongoing problems. If you think your pet could benefit from hydrotherapy, please ask one of our friendly team for more information.
Your dog may benefit from other treatments alongside hydrotherapy, and you can take a look at what else we offer here or get in touch by phone: 01270 586008